"I'm watching Wazowski, always watching" put that in your best Roz from Monsters Inc voice.
So with my new marketing class, I've been tasked with this week of talking about when analytics can cross a line when watching goes to stalking. To be honest this isn't really something I thought about when using analytics for social media in using it to stalk people, I didn't know it was a thing. Then again it really shouldn't surprise me.
I decided to research on the subject and found a blog from a social media manager who actually has a post about Google Analytics (GA) and and taking stalking to another level. The author raves about how GA can be such an awesome tool, however she does divulge into how it goes into the dark side of GA.
With a few easy clicks in Google Analytics you can see who's on your site, what they are reading, how long they are there and where they are from. That's some creeptastic data on your hands there! I could see people using this in the wrong way and falling into the wrong hands, maybe divulging deeper into what someone is reading and seeing what else they are doing on the internet and also dive in and find out exactly WHO is reading your blog. If you live in Connecticut and see people from Connecticut reading your blog or on your site or whatever, I imagine digging into analytic tools at your disposal you might be able to do so. I know for myself I wouldn't want people to know who I am unless I make that known, like if I'm on someone's blog and throughly enjoying it then sure I'd be okay with maybe posting a comment or two, lending at least my name or something.
All of this really just lends me to thinking about social media stalking in general really which has been growing trend over recent years, being able to see what people are doing, where they are, when they're doing it, etc. It's really why a lot of social media platforms in general have lent themselves to privacy controls being able to have control over what friends, no friends and others can see and not see. I know personally a majority of my information on Facebook is private. Let's be honest there outsides that I don't want seeing my personal on goings.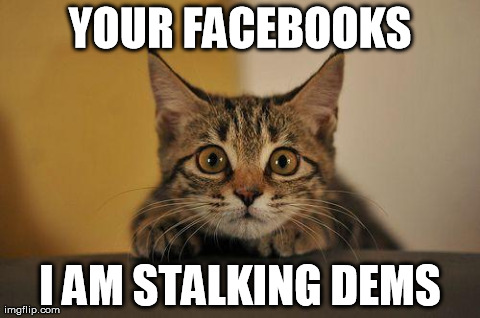 So realistically it's easy for one to get their hands on information on their readers, maybe not a ton of details but it's easily one of those things where you have this power at your finger tips and you should use it wisely as Peter Parker's Uncle Ben said "With great power comes great responsibility"
The blog I mentioned in my blog post: http://itsblogworthy.com/2011/10/google-analytics-real-time-walk-through/